Top 10 Uganda Experiences
---
Top 10 Uganda Experiences – Top 10 Things to see and do in Uganda, Top 10 places to visit in Uganda, Top 10 Attractions in Uganda.
---
For its small size, you will be amazed at how much you can experience while On a holiday in Uganda. We have listed a couple of things to see & do in  Uganda which we have called the "Top 10 Experiences" – this list is, however, none exhausting of  Uganda but Its however based on our 10 years experience traveling around this pearl of Africa.
---
If Uganda is your choice, then our list of Top 10 Uganda Experiences will definitely be helpful in aiding you decide what to see and do while in Uganda!
---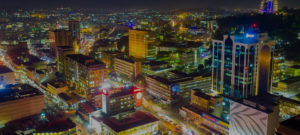 1) Explore Uganda's Capital City (Kampala) –  Kampala is a very historical City. Experience the past about Uganda with visits to very iconic sites within this busy city.
Experience Kampala on our Martyrs & Kings Kampala City tour.
Quick Links:
Things to see & Do in Kampala.
---
2 ) Explore the River Nile – It is believed and also well documented that the TRUE source of the river Nile is in Uganda. A Visit to the town of Jinja will allow you to explore the Nile and the Adventure that surrounds it. The river Nile flows through eleven (11) countries and is the longest river in the world and you will encounter it a few more times during your Uganda Safari. If you like adrenalin water sport, don't miss out on the white water rafting in Jinja or see its rich animal life on its shores in the Murchison Falls National Park.
---
3) Hike to the Sipi waterfalls trail – if you like water and intensive green color, you should never miss out on this beautiful and powerful waterfall. Get yourself a local guide, who will cost you almost nothing and find out all about the local life in the nearby village. While hiking down the waterfall, you will be challenged by the steep leather, shaking knees and sweat, but as soon as you take your eyes on the waterfall you will know, why you are here.
Browse our Uganda Holidays & Tours that visit Sipi Falls.
---
4) Visit the largest Manyata in Eastern Africa – The region of Karamoja (North East of Uganda)  is popularly known for having the highest number Of Manyatas In East Africa. Not long ago, the region was marked as a no travel zone because Of the insecurity that prevailed, however, this has changed. Most travelers visiting Uganda still avoid it! Realm Africa Safaris™ loves to visit Kidepo because it is still pristine and off the beaten track _ Not many visit this part of Uganda and it is for the reason we like to go there.  While Visiting the Karamoja Region, a hike up the Morungole Mountain to see the Ik people of Karamoja is a rewarding cultural experience not to be missed.
Browse our Kidepo Holidays & Tours that visit the Karamoja region.
---
5) Go on a safari – Uganda Safaris are probably one of the most recognizable things in East Africa. Uganda boasts of up to 10 National Parks that are rewardingly a lot cheaper than the ones in Kenya and Tanzania. The most popular and visited national park in Uganda is Murchison Falls and Queen Elizabeth National Park. If you prefer less visited off-the-beaten-track places, don't miss out on the Kidepo Valley National Park– It is far northeast and just below the Sudan border. You can get there by road or by small aircraft from Entebbe International airport.  Browse our List of Uganda Safaris by Park
6) Walk with the rhinos in Zziwa Rhino Sanctuary – Even though you will not be able to see the Rhino in Uganda's national parks, you can visit Ziwa Rhino Sanctuary with a possibility of an overnight stay at the opulent onsite Amuka Lodge. The Sanctuary has currently a total of 23 white rhinos living on a fenced off area – with 24/7 surveillance for against poaching here. As an on-going contribution to the breeding and conservation programme at Zziwa Rhino Sanctuary, we encourage our clients to visit the sanctuary on their way to Murchison Falls National Park. If one feels the need to further support the programmes at the Zziwa Rhino Sanctuary, visit their website for more Information on how to support (http://www.rhinofund.org/).
---
7) Experience the Dugout Canoes on  Lake Bunyonyi –  when arriving at the Bunyonyi Lake you will think you are in some kind of a fairytale. The landscape is just unreal here. The big volcanic crater lake, which has more than 29 small islands dotted all over the Lake.   The best way to explore some of the islands is by dugout canoe. For persons seeking a little comfort, the lodge that we like to stay at runs a motorized boat that will take you all around this picturesque lake.
---
9) Track and See Chimpanzee In Uganda – Uganda is the only place in Africa where one can choose to either experience chimpanzee tracking in a lush tropical forest or opt for our off_the Beaten_track_Chimpanzee Tracking experience through a natural gorge believed to be below sea level.
Browse our Chimpanzee Trekking Safaris
---
10) Trek for Mountain Gorillas In Uganda – As of May 2018, the recent Mountain gorilla census put the Gorilla population at 1000 individual still alive – thanks to ongoing gorilla conservation efforts that has seen the numbers rise from 880. Uganda is home to over half (500) mountain gorillas – while the remaining half is shared between Rwanda (300) and DR. Congo (200).
Gorilla Permits in Uganda cost USD600, and USD1,500 in Rwanda. DR.Congo permit prices are not stable but we don't offer Gorilla Trekking tours to DR. Congo – Curious why? Read our Blog post: Why Gorilla Trekking In DR. Congo is Considered NOT safe.
Browse our Uganda Gorilla Safaris
---
UGANDA SAFARI ITINERARIES TO INSPIRE YOUR NEXT HOLIDAY 
---