---
UGANDA SAFARI

– TOURS – HOLIDAYS & VACATIONS
---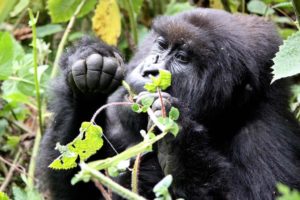 Uganda Safari Tours  & holidays are big on wildlife drama, Popular with Gorilla Safaris, Whitewater Rafting on the Nile, Spectacular wildlife spread through ten (10) National Parks – Uganda is "the pearl of Africa"  –  we like to say Uganda is Africa Condensed…
---
Uganda offers a multitude of adventures that are best experienced on organized Uganda safaris spread across ten (10) spectacular National Parks each with a distinct safari experience to offer to discerning travelers – none of the Uganda Safari parks is the same.
Realm Africa Safaris™ operates affordable – private & small group budget Uganda Safari Tours that range from the popular 5 Days Gorilla & chimpanzee Tracking Safari to the intense multi-day Gorilla Safaris visiting Bwindi Forest or Mgahinga Gorilla Parks.
While our core offering Gorilla Safaris, we also operate wildlife Safaris to other savannah parks around Uganda – click here to browse all our Uganda Safaris by park.
---
WEATHER & CLIMATE 

SEASONS IN UGANDA
---
Uganda's tropical climate is a little different in the north and south of the country. From March to November, the north experiences a rainy and warm Wet season, followed by an almost equally warm Dry season from December to February. The south, on the other hand, has a pair of Dry seasons (December to February, and June to July) broken up by a pair of Wet seasons. The country's higher altitudes get predictably cold, with the temperature dropping 6°C/3.5°F for every 1000m/1000ft you climb. Read More: Climate & Weather of Uganda.
---
BEST TIME TO GO

ON A UGANDA SAFARI
---
* The best time to visit Uganda on Safari is June to August and December to February.
The drier months from June to August and December to February are the best for wildlife watching in Uganda. This is particularly so when it comes to the rainforest habitat preferred by primates (gorillas, chimps, golden monkeys …), and the same applies for the savannah parks where animals have little bush to hide in. There's also plentiful sunshine at this time. In the wet months, the trekking experience can be slippery and a lot more challenging. Read More: Best time to go on safari in Uganda.
---
WHAT TO WEAR 

ON A UGANDA SAFARI
---
Modest clothing is recommended for your Uganda Safari.  We like to remind our travelers to pack or rather bring that which they need – Min Skirts are a BIG NO  as they are culturally interpreted as indecent dressing in most African countries including; Uganda, Rwanda, Tanzania & Kenya where Realm Africa Safaris™ operates tours.
Read More: What to wear on a Uganda Safari. | What to pack for a Gorilla Safari in Uganda.
---
OTHER

UGANDA SAFARI FACTS WORTH KNOWING
---
---
THINGS TO SEE & DO ON A UGANDA SAFARI
---
UGANDA GORILLA SAFARI IDEAS