New Uganda Visa Online Application Process and Requirements
New Uganda Visa Online application Process and requirements – No more visas will be issued on arrival without having applied online prior to your travel to Uganda.
New Uganda Visa Online Application Process & requirements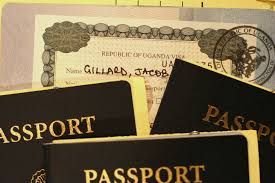 When applying for the newly introduced Uganda Visa Online, follow the link; https://visas.immigration.go.ug  and fill in all relevant information as asked in the new Uganda Visa Online application e – form. Once the application is submitted it will be studied by an Immigration Officer to ascertain that all your information was accurately filled in or attached as required. Please note that during the approval process additional information may be required. The new Uganda Visa Online Application additional required information may be submitted electronically through "Manage your applications"
The decision taken regarding your New Uganda Visa Online Application will be sent to you electronically using the email provided by the applicant. If your Uganda Visa is approved, an approval letter will be sent as an attachment to the email you provided while applying for the Visa.
Special Note:  The approval email sent to you does not in anyway guarantee entry into Uganda. Travelers will be subjected to secondary verification where necessary before the visa is Issued.
On reciept of your approval letter, please remember to print out copies (we recommend you print upto 3 copies) to Present with a valid travel document / passport of not less than 6 months validity ( read our post about " East African Passport Validity Rule – yes it applies") to the Immigration officer at the port of entry.
---
We hope this New Uganda Visa Online Application article has been helpful in preparing you for travel to Uganda. If you have any more questions, please feel free to leave a comment below or write us a private email – we will respond in 24hrs.