Deo's Model Homestead Tour
Deo's Model Homestead Tour -Ishasha Community Uplift Project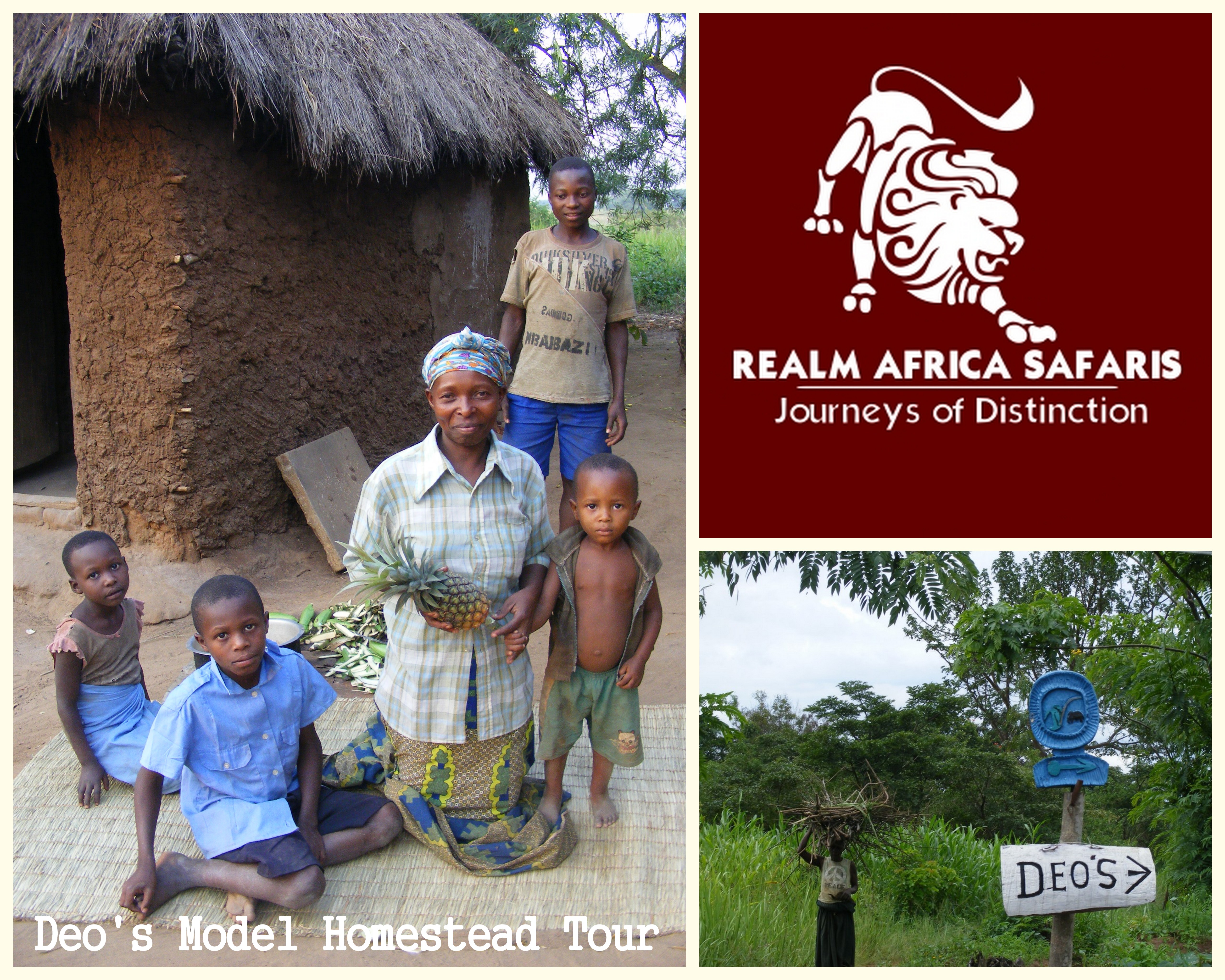 Deo's Model Homestead Tour exposes you to the daily lifestyle of the rural Ugandans survive alongside wildlife on the edge of Queen Elizabeth National Park. Every community member plays their role in farming and defending their crops from animals, day in day out till harvest time.
One of the undoubted highlights of Deo's Model Homestead Tour is the opportunity to view, and even climb down into, the elephant trench – a natural elephant barrier that prevents them from getting into the community gardens to destroy food. This elephant trench was first excavated by the Uganda Conservation Foundation and currently is being maintained by the community members as an on-going sustainable community project (Realm Africa Safaris loves to work with sustainable community projects like Deo's Model Homestead Tour)
The elephant trench that separates Deo's family from the park and its hungry wildlife ought to maintain dimensions of two (02) metres width by two (02) metres depth – maintaining this trench has therefore become a full-time job for the locals, especially after the rains.
Elephants will regularly try and cross poorly maintained sections of the trench and can eat and trample the entire crop in just half an hour. To deter them, Deo burns a mixture of elephant dung and fresh garden chilli. When he bangs loudly on a jerry can, the rest of the family know to come running to make noise and shoo the animals away. As part of Deo's Model Homestead Tour, you may even be invited to help maintain the trench!
What more is there to experience on Deo's Model Homestead Tour?
Do you know how to tell whether a jack fruit is ripe? Do you know the medicinal uses of the Aloe plant? Deo's Model Homestead Tour answers these questions and more as you are guided guides you through the fields of maize, bananas and medicinal plants. The interesting bite is watching Deo scares off the baboons from the fields! How does he do that? Ah, well you need to visit and see (experience! and hear!) for yourself.
---
Deo's Model Homestead Tour is one Of our highly recommended community tourism project for visitors transiting from Northern Queen Elizabeth National Park via Southern Queen Elizabeth park popularly know as Ishasha Sector – rumoured to be the best place to see tree climbing lions while on a safari to Uganda.
Deo's Model Homestead Tour could also be a perfect stop over from gorilla trekking in Bwindi – if your safari continues to Queen Elizabeth National Park and or Kibale Forest National park.
Interested in Deo's Model Homestead Tour? Please speak to our consultant about adding this to your tour.