WILDEBEEST BIRTHING SEASON

  IN SERENGETI – TANZANIA
---
Wildebeest Birthing Season in Serengeti National Park happens in the later days on January into early February every year.

---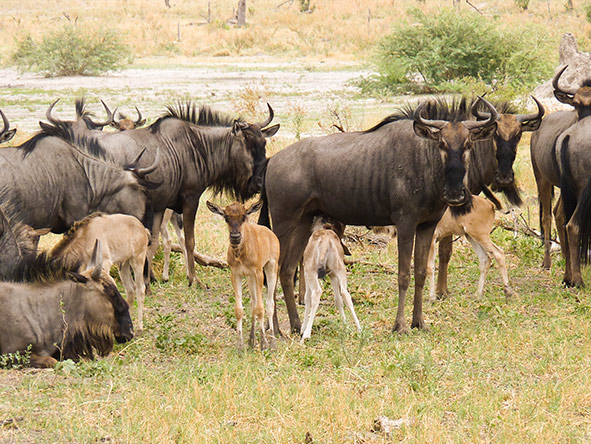 Approximately 8,000 young wildebeest are born every single day during the peak of the wildebeest birthing season in Serengeti. There truly is nothing that compares to seeing a baby wildebeest take off running just minutes after being born.
The magic in the Serengeti during the birthing Season does not only end with the calving, but you also get to encounter overwhelming numbers of predators and raptors (Lions, Leopards, cheetah Hyenas, Jackals, Marshal eagles, African White-backed vultures, Lappet-faced Vultures).
During wildebeest birthing season in late January and early February, the Southern Serengeti and Western Ngorongoro Conservation areas host the highest concentration of predators and raptors in Africa – availability of prey is the obvious reason for this!.  Lions, hyenas, and cheetahs show up in large numbers to patrol the grasses, waiting for the perfect time to make a kill. But an easy kill isn't always guaranteed. Female wildebeest instinctively know to head to the short grass plains so that they can see approaching predators way far before they get close enough to Kill. There they form a barricade around birthing mothers to protect them and the young when they are in the most vulnerable state, during birth, ensuring the majority of the young and newly born wildebeest survive.
Going on a Tanzania Safari in the months of January & February allows you to experience the Wildebeest birthing season in Serengeti, and also this time of the year promises an action-filled Photogenic safari with plenty of wonders. The hunting of young wildebeest by large cats is part of nature, and during the few weeks of the wildebeest calving season, you're sure to see some magnificent kills, especially from the cheetahs.
---
PLACES TO STAY

DURING THE WILDEBEEST BIRTHING SEASON IN SERENGETI.
---
There are several great properties in the southern Serengeti and Ndutu areas that allow you to stay close to the action. Mobile migration camps follow the herds throughout the year and position themselves close to the wildebeest during the birthing season (Not too close to interfere with nature, but just close enough to allow them their clients experience the Birthing. Built out of wood and canvas, the rooms offer a true "Out of Africa" authentic luxury safari experience with a promise of an exceptional game and predator activity.
If a mobile-tented camp is your preference, we recommend the Opulent Olakira Tented Camp, located in the Ndutu region of the southern Serengeti, Ubuntu Tented Camp, positioned close to the Ngorongoro Conservation Area, and Kimondo Tented Camp, set deep in the southern Serengeti with views of a permanent waterhole. Each camp offers eight (08) guest tents with en-suite bathrooms and a common area for meals and relaxing between game drives. From your private verandah or terrace, enjoy your morning cup of tea or coffee, With your pair of binoculars, and a camera – just so you don't miss any wildlife moments Serengeti has to offer.
---
PERMANENT LODGES

YOU CAN STAY AT DURING THE WILDEBEEST BIRTHING SEASON
---
If you're looking for a permanent lodge in the area, consider Mwiba River Lodge, one of our favorite properties in the southern Serengeti. It's located in the Mwiba Wildlife Reserve in the greater southern Serengeti and overlooks a rocky gorge on the Arugusinyai River. Lush botanicals, ancient coral and acacia trees, and 33 freshwater springs surround the lodge. Eight (08) double suites are elegantly decorated with linen sofas, ornate wood carved furniture, and neutral tones of creams, tans, charcoals, and black. Rooms are open with retreat-like bathrooms with large soaking tubs, outdoor showers, and copper fixtures. A large deck looks out over the stunning landscape. From Mwiba Lodge, excursions can head into the heart of the Wildebeest calving area to see the phenomenon up close birthing. Beyond game drives, Mwiba offers a wide range of activities including bushwalks on the Mwiba Wildlife Reserve, cultural village tours, and rock art tours – all happening On the Mwiba River Lodge property.
Whether you choose to stay at any One of the Top recommended luxury Lodges / Camps, you can be certain that game viewing during the wildebeest birthing season in Serengeti will be one of your top Safari experiences in Africa.