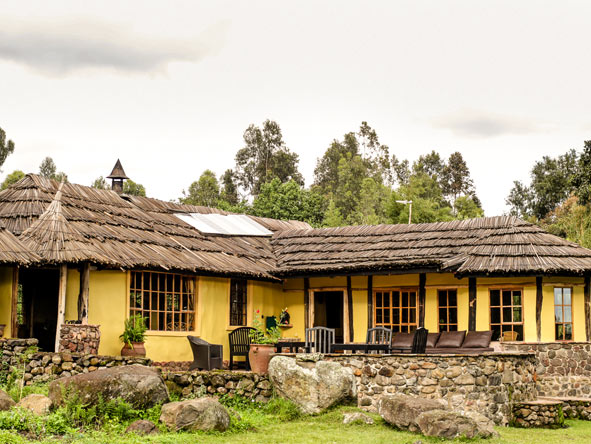 Mount Gahinga Lodge
Mount Gahinga Lodge …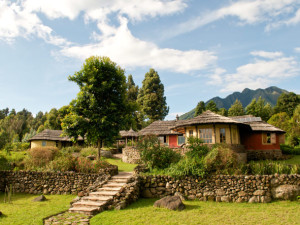 Mount Gahinga Lodge rests on the edge of Mgahinga Gorilla National Park in south-western Uganda and is a tranquil and secluded safari escape. The park is home to mountain gorillas, rare golden monkeys, atmospheric bamboo forests and the sacred Ngarama Cave, which was once home to the king of the Batwa Pygmies.
Against a backdrop of three mighty, now-extinct volcanoes, this exclusive-use lodge is set in a beautiful landscape of gardens and has nine rustic bandas designed to fit seamlessly into the natural environment.
Experience the diversity of Uganda's wildlife with a trek into the hills to see elusive gorilla or golden monkeys. Or simply relax the terrace of your lodge as you take in the incredible views of the volcanoes and untouched African terrain.
Mount Gahinga & the Batwan people …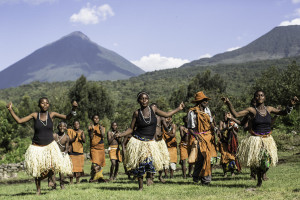 Mount Gahinga Lodge offers a variety of experiences and activities that aim to help the surrounding communities. Visit the Cultural Heritage Site where Batwa community members demonstrate their local traditions such as fire-making or join the locals in a cultural group dance which regularly occur at the lodge. Head into the hills on a hike up the volcano or experience a once-in-a-lifetime opportunity to see gorillas in the wild on an unforgettable gorilla trekking experience.
Facilities & Rooms …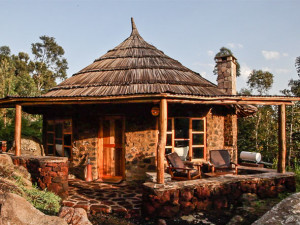 The lodge is equipped with solar power, a restaurant and bar, and open fireplaces for warding off the mountain chill. Birdwatchers will enjoy ticking off their list from the comfort off the outdoor sitting area. Guests also have access to a laundry service.
Nine stone bandas have been authentically designed to resemble African huts and are stylish and comfortable. Spacious living areas with fireplaces provide cosy warmth in winter, while en suite bathrooms with showers, flush toilets and hot and cold running water offer all the creature comforts of home.
---
If you like to include Mount Gahinga Lodge – Mgahinga National Park – South of Uganda – in your safari with us – Please contact us.