Getting to Mgahinga Gorilla Park
GETTING TO MGAHINGA GORILLA PARK
---
Getting to Mgahinga gorilla park – located in southwestern Uganda 510km/317mi from Kampala bordering Rwanda and the Democratic Republic of Congo – Mgahinga can be reached by both road and or flight.
Getting to Mgahinga Gorilla Park by road is the most common recommendation you will get from tour operators in Uganda, however, we at Realm Africa Safaris™ understand that this can be tiring for our clients and yet one has to be fit for Gorilla trekking the next morning. Because we value the time and money you have invested in travelling to Uganda to see the mountain gorillas, we are keen to make it a worthy experience.
---
GETTING TO MGAHINGA GORILLA PARK – OUR BEST RECOMMENDATION.
---
FLY INTO KIGALI (RWANDA).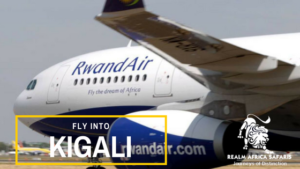 Mgahinga Gorilla park is located 145km – 03 to 04 Hours drive (including border crossing time loss) from Kigali International Airport.  Gorilla trekking permits in Mgahinga Gorilla park cost USD600, unlike the Rwanda Gorilla permits which currently cost USD1500 almost the cost for a 3 Day Mgahinga Gorilla – Golden Monkey Safari with 02 nights full board – all 03 meals –  accommodation at Lake Mutanda Resort.
RwandAir recent introduction of direct flights to and from London, and Brussels, plus many other International Airlines; Emirates, Qatar, Turkish Air, Kenya Air, Ethiopian Airlines, Brussels Airlines, and KLM also fly into Kigali. This has made Kigali Airport a quick entry to Uganda's southwestern Gorilla trekking Corner for Affordable Gorilla trekking Safaris through Kigali.
---
FLY FROM ENTEBBE TO KISORO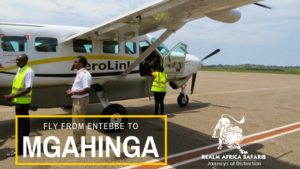 Flying from Entebbe to Kisoro is our second best recommendation of getting to Mgahinga Gorilla Park for either Golden monkey tracking or Gorilla Trekking. Aerolink Uganda operates daily flights from Entebbe International Airport to several parks in Uganda including Kisoro Town – which is a mere 14 Kilometers drive to Mgahinga Gorilla Park. Flights from Entebbe to Kisoro usually last between 1 – 1½ hours versus the 3 – 4 hours road transfer if you fly into Kigali. However, the downside is that you will need accommodation in Entebbe on the day your international flight arrives Entebbe because all Aerolink Uganda flights to Entebbe leave as early as 7:45hrs meaning you have got to be at the airport for check-in at least one (01) hour to the departure of your flight. All Aerolink Uganda Flights have a luggage limit of 15kgs and will charge EXTRA for excess luggage subject to availability of space on the plane at the time of travel.