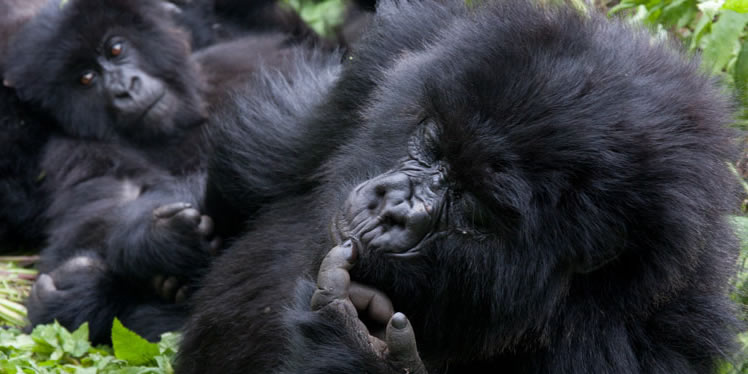 Fly into Rwanda Trek Gorillas in Uganda …
Fly into Rwanda Trek Gorillas in Uganda – something most do not realize.  The Mountain Gorillas of Uganda, Rwanda, Democratic Republic of Congo live in close proximity of each other. About 480 Mountain Gorillas live in the shadows of the Virunga Volcanoes in Volcanoes National Park in Rwanda, in Virunga National Park in the DRC, Mgahinga Gorilla National Park in Uganda and in Bwindi Impenetrable Forest in Uganda.  Rwanda and Uganda are the safest countries for Gorilla Trekking.
What most people do not realize is this -You can Fly into Rwanda – Trek Gorillas in Uganda.  It takes about 4½ hours from Kigali Airport to the Rushaga Area of Bwindi Impentrable Foresdt. Not only can you go on a gorilla trek here, you can spend 4 hours with a Mountain Gorilla Family on a Gorilla Habituation Experience.
The majority of Habituated Gorilla families in Uganda are located near the border with Rwanda. It takes 8 to 10 hours to drive from Entebbe or Kampala and only 4½ hours from Kigali – Rwanda. This is a well-known fact that most visitors to Rwanda and Uganda do not know.  The reality about Gorilla Trekking in the southern area of Bwindi Impenetrable Forest is this. The fastest way to get to Bwindi Impenetrable Forest is to fly from Entebbe to near the Buhoma area landing in Kihihi, or fly to Kisoro in the southern Area of Bwindi Impenetrable Forest landing just a few hours drive to Bwindi.
Flying into Kigali and driving to the Rushaga area of Bwindi is the fastest way to get there by Road. 4½ hours coming and 4½ hours going, save wear and tear, no long journey – it a short Drive compared to the traditional 09 – 10 hour drive from Entebbe all the way to Bwindi.
Permit Prices in Uganda – US$600 per permit except April – May and November US$450 promotional permits during the off-season.  Permit prices in Rwanda US$750 per Permit all – year long.
---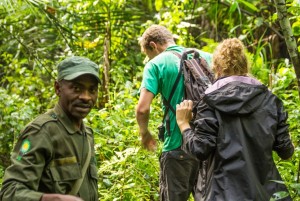 Gorilla Habituation Experiential Safaris lasting up–to 4 Hours with the Mountain Gorillas of Uganda is the Newest Gorilla Product on the Market – A lot worth than the traditional 01 hour with the Gorillas – Gorilla tracking. Just three hours from Kigali in the Rushaga area of Bwindi Impenetrable Forest is the one-of-a-kind Gorilla Habituation Experience.  An all-day Gorilla Trek that includes being for 4 hours in the presence of a mountain Gorilla family being habituated – a process that takes up to two years.  There are two groups being presently habituated and just a few are allowed each day to participate in the Gorilla Habituation Experience.
From Kigali Rwanda this can easily be done in 3 days.  If you tracked 4 Gorilla Groups in Rwanda – the cost would be 3000 usd just for the permits, 4 hours in Uganda on a Gorilla Habituation Experience  1500 usd for each permit, less lodging cost since you will only need two nights in Uganda.
The Gorilla Habituation Experience is a fairly new concept in Uganda, but goes well along with our Chimpanzee Habituation Experience and also our Golden Monkey Habituation Experience that are offered only in Uganda.
---