FILMING ON KILIMANJARO
---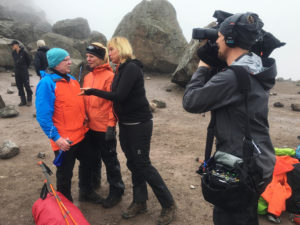 Filming on Kilimanjaro does require written permissions and Filming Permits issued by Ministry of Tourism in collaboration with all relevant Government offices. The process of acquiring a valid Kilimanjaro filming permit can be a lot taxing without the help of professionals!
Filming permits in Tanzania are regrettably, not very straightforward to obtain, and applications are often turned down for reasons that are not always understandable to the applicant. To date, however, we are pleased to be able to report that –Realm Africa Safaris™ has not yet (hopefully NEVER) failed to obtain filming permits for any of our film-making clients. For this reason, we are frequently asked to obtain filming permits and therefore have a dedicated film crew fixers team ready to facilitate your Filming permit applications.
PRICE OF A PERMIT FOR FILMING ON KILIMANJARO
---
There are three (03) fees involved when obtaining a Kilimanjaro filming permit; 1) The cost of the Filming permit (USD1,000) – a charge which goes directly to the government, 2) The actual cost of a location filming permit (Kilimanjaro Filming Permit costs USD250 pp @ day), 3)  Legal fees and expenses, which are necessary to pay a lawyer, typically to travel multiple times to Dar es Salaam, to liaise with respective embassies, file the application and generate supporting documentation.
In 2018, the current fees are as follows:
---

1) USD 1,000 per permit (Read more:

Filming In Tanzania

)
2) USD 250 per person per day- this covers; Park Entry fees for the day, Filming Permit & Camping.
3)

Approximately

USD 975 legal fees per permit application.

---
Climbers intending to do some  Filming on Kilimanjaro should note that it is in principle possible to apply directly to the Ministry of Tourism and to bypass the requirement to pay any legal fees. Several years ago the idea of directly applying to Ministry of Tourism was fairly common and successful. However, over the years, the direct approach through Ministry of Tourism, is bureaucratic, and unsuccessful a report we have continuously received from our Filming Clients who tried to directly apply for Kilimanjaro Filming permits through Ministry of Tourism.
---