Chimp trekking in Uganda
CHIMP TREKKING IN UGANDA – KIBALE FOREST, BUDONGO FOREST, KYAMBURA & KALINZU FOREST.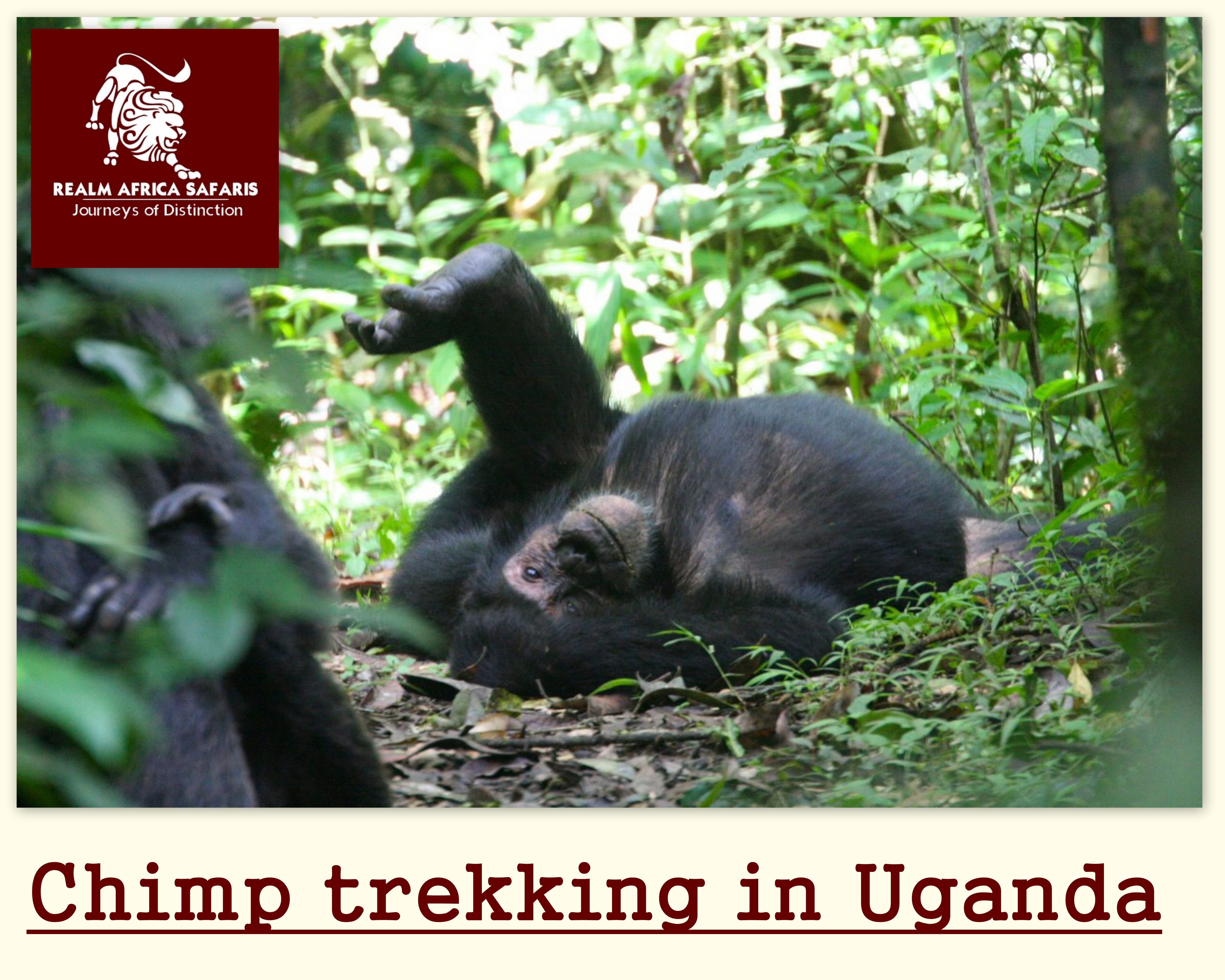 Chimp trekking in Uganda is the second most sought after primate safari – experience for travelers to Uganda – the first being gorilla trekking. Chimp Trekking In Uganda can be done in a number of places; Kyambura Gorge in Queen Elizabeth National park, Kalinzu Forest ( under direct managment of Uganda National forestry Authority, Budongo Forest in Murchison falls and Kibale forest National park – the later being our favorite recommendation.
Planning my Chimp trekking in Uganda.
Planning a chimp trekking holiday in Uganda involves identifying the right tour operator (in Uganda) with whom to plan, book and travel with on your Chimp trekking Safari in Uganda.
We recommend that you stick to working with registered members of Association of Uganda Tour Operators – AUTO (click the link to verify company membership). Realm Africa Safaris is a duly registered member of AUTO – this puts us a the fore front of being a reputable company you may opt to work with while you plan you chimp trekking in Uganda.
Planning my chimp trekking in Uganda?
Every traveler intending to do chimp trekking  in Uganda must have a chimp trekking permit allowing them to trek chimps in a particular location ( Budongo forest, Kyambura gorge, Kalinzu Forest and or Kibale forest).
Chimp trekking permits in Uganda are often scarce and require pre booking (at Least 3 – 6months in advance). Chimp trekking permit bookings for Uganda are done at the Uganda Wildlife Authority (except for Chimp trekking in Kalinzu forest) and can only be gurantteed after Fully paying for them.
What is the price of a chimp trekking permit in Uganda?
Chimp trekking permits in Uganda vary depending on where you are trekking chimpanzees. We have provided a detailed table below indicating the various chimp trekking destinations in Uganda and the corresponding chimp permit prices, and the seasons ( Peak Season or Low Season).
Destination
Peak Season (December – February, June –October)
Low Season (April, May & November)
Foreign Non Resident – FNR
Foreign Resident – FR
East African Citizen
Foreign Non Resident – FNR
Foreign Resident – FR
East African Citizen
Kibale Forest NP
USD 150
USD 100
UGX100,000
USD 100
USD 75
UGX75,000
Budongo Forest
USD 95
USD 85
USD 50
USD 85
USD 75
USD 45
Kyambura Gorge
USD 50
USD 50
UGX30,000
N/A
N/A
N/A
Kalinzu Forest

Prices to be confirmed from Uganda Forestry Authority
Abbreviations Used in the chimp trekking permit price table above:
FNR – Foreign Non Residents.
FR – Foreign Residents.
USD – United States Dollar.
UGX – Uganda Shillings.
N/A – Not applicable.
NP – National park.
Special Note:
All the prices herein provided in the table above are correct at the time of publishing but are subject to change without prior notice. We therefore recommend that you  treat all prices above as as a guide and  feel free to contact us for  an update on the prices.
After i have booked and fully paid up for my Chimp trekking permit, then what next?
Securing your chimp trekking at this level is most probably done (and you have Fully paid up for it). The next step is to ensure you have the right chimp trekking gear. Not to threaten you so much, chimp trekking in Uganda is not as strenuous as you may imagine (especially when we use the phrase "trekking"…. ): ) we are simply trying to get you fully prepared for the worst.
 Chimp trekking in Uganda is done in tropical forest whose climatic conditions change by the clock from sunshine to heavy down pours of rain. We recommend that you bring water proof clothing (jacket, a pair of light-fast-dry pants), water proof shoes, waterproof backpack (protects your valuables; camera, passport, money etc…)
 Finally, bring a positive attitude as this can make or break your chimp trekking experience in Uganda.
---
With the few remarks (not sure " few " is the correct word) we hope you will enjoy you chimp trekking in Uganda experience. If you have any questions, concerns,  and or supplements and suggestions regarding "chimp trekking in Uganda" ,please contact us.